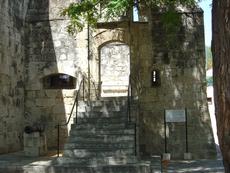 The Medieval Museum
From the entrance, a staircase takes you downstairs to a large hall. On the wall along the staircase there is a selection of black and white photos showing Medieval places, Gothic and Byzantine architecture. in the basement hall are exhibited tombstones, sculptures and plaster casts of sculpture from the Cathedral of St. Sophia (Nicosia).
From the entrance hall, to the left you enter a long room which has small chambers on either side communicating with the main hall by Gothic archways.
These rooms all exhibit various coasts of arms and tomb stones plus wall paintings and sarcophagi etc.
Over the Hall there is long central room where armoured knights are displayed plus marble tombstones. The chambers to either side exhibit various types of pottery, clay, glass and marble artefacts, Islamic objects, utensils, metal objects, coins, helmets and armour. From here, satires lead to the roof from which there is a commanding view of Limassol town and harbour.